003. EIAFUAWN - Birds in the ground LP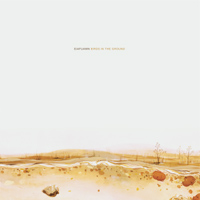 "Lost your patience / lost your temper / lost your coffee (with cream) / all over me."
My loving relationship with EIAFUAWN began more than five years ago with that line. Well, that line and the music that accompanied it. I had four of his songs that I played over and over again. After some time I got a CD with The Modulator Hustle EP along with some other songs, most of which found their way onto the Birds in the ground CD.
Even before I played the Birds CD itself over and over again I had blurted out that I wanted to release it on vinyl. Never in a million years would I have imagined that it would take me three of those to release a record. There were some bumps on this long road, but you know what? "It doesn't matter," as Jacko said. He also said: "Showin' how funky strong is your fight". Still, it simply does not matter. This is one of the best records I have ever heard and I am grateful to be a small part in getting more people to discover it.
Notes:
First press is on 180 grams of black vinyl. 520 copies were made. That's more than 90 kilos of music.
Brendan Monroe
did the amazing artwork for it.
Discography:
Birds in the ground CD [The Static Cult Label, 2006]
EIAFUAWN:
Website
/
MySpace
/
The Modulator Hustle
Reviews:
More to follow very soon.